Welcome
Sweetland Soap strives to nourish our community by providing an everyday luxury that is good for the skin and enlivens the soul.  Each bar of Sweetland Soap says – I thought about you, you are important to me, and I want you to be joyful.
The Sweetland Soap website and online shop is a new beginning!  Please excuse the construction dust as the Sweetland Soap online shop evolves over the next few months into a full-fledged store.  The shop page is up and running with limited editions and a few signatures that will stay in stock year round.  Check back from time to time as new soaps are continuously being added.
All orders right now are 25% off!  Use coupon code SAVE25 at checkout. Shipping is $7.15 or free for orders of $50 or more.  You can also select local pick-up for free shipping.  At checkout, type in details for local pick-up (or delivery if you are on our family's commuting route) in the Order Notes box.
Don't miss the shave bars and the baby bars!  These round specialty bars are absolutely fabulous.  The shave bars whip up mounds of lather enriched with vitamin E and silk.  They are made without Bentonite Clay, so the lather does not dull the razor or dry out on skin.  Baby bars are extra gentle and unscented (though they give off a pleasing sweet and clean soap smell).  They are made with mostly olive oil and just a touch of coconut oil for lather.
There are some pages still coming to the website.  A frequently asked questions (FAQ) page will provide an overview of soapmaking and commonly asked questions about handcrafted soap.  An ingredients page will offer a description of each ingredient and how it impacts soap characteristics.
Sweetland Soap: The perfect gift!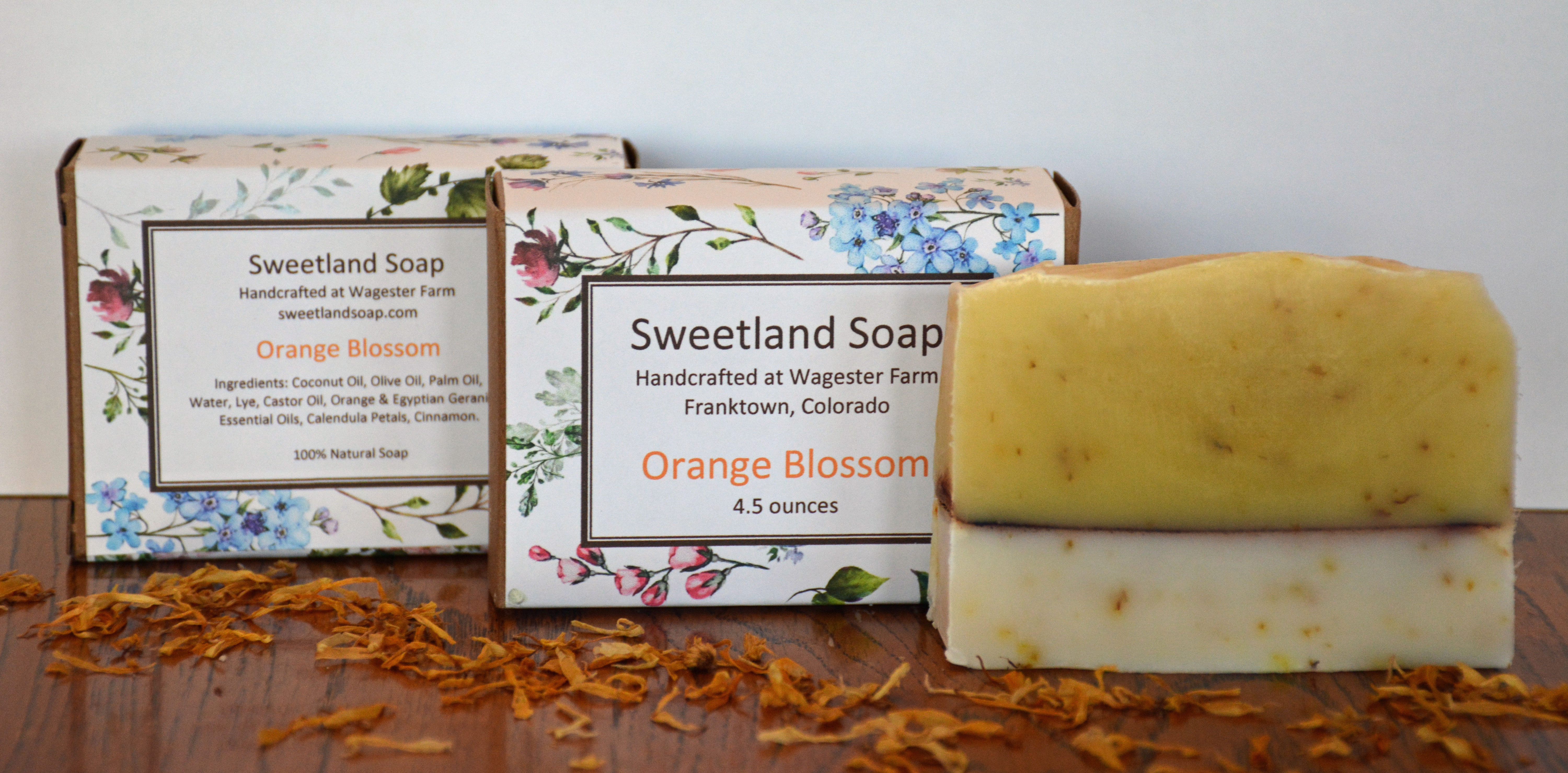 Orange Blossom is pictured with a cinnamon pencil line that separates the essential oil colored top and compliments the Calendula petals mixed in throughout.  The botanical collar (label) is bright and cheery with a hint of sophistication.  The kraft box protects the soap in transit and keeps the scent strong.  I opted for a window in the kraft box behind the collar so that the soap's scent shines through without having to open the box.
I hope all of you are as excited as I am about the growing Sweetland Soap product line!